Services
OFF-SITE SHREDDING SERVICES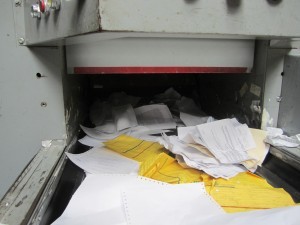 All material collected is loaded and transported via locked truck to the totally secure Cutting Edge document shredding facility in Chicago, where it is shred, baled and sent to the paper mill for recycling.
Confidential material is often still in drawers, boxes, or in storage, No problem! We collect it. Cutting Edge will even provide lockable-wheeled containers, on request, for your employees to clean out their confidential material before our arrival.
Off-site Shredding provides an inexpensive high security service your company requires.
ONLINE WITNESSED SHREDDING
Through our website you can witness "LIVE", the shredding of your materials. No more going out in the heat of summer or cold of winter if you want to witness the shredding process. A secured link is available that shows you the process live though our security cameras. All on-line witnessed shredding is done by appointment and only your documents are shred at that time. It's easy, it's convenient and there are no extra charges for this service. In addition, for no added cost, the video can be downloaded to a flash drive or CD for your permanent records. All the security of on-site shredding at half the cost and right from the comfort of your own desk. It's more "green as well. No fuel to run the shredder and no fumes!!
WITNESSED SHREDDING SERVICE
Some companies require visual confirmation of secure document destruction. Cutting Edge Document Destruction will allow you to witness the process in a climate-controlled environment via closed circuit TV at our plant. This is particularly good for large purges that may take days to complete "on-site". We can shred 5 times faster in our plant shredder. You receive the cost savings of off-site destruction and the peace of mind of on-site shredding, but not the exposure to Chicago's always changing weather. This too may be downloaded for your permanent records.
ON-SITE SHREDDING SERVICE
Cutting Edge Document Destruction will send a state of the art mobile shredding unit to your location. The material is weighed, and the entire destruction process takes place inside the truck. The shredded material is transported to our facility where it is baled and sent to the paper mill for recycling.
Cutting Edge Document Destruction is not NAID AAA Certified for this sevice offering.  However, this work is sub-contracted through a NAID AAA Certified partner for On-Site shredding.
Daily correspondence, internal memos, invoices and human resources paperwork should not be going into the recycle bin! Cutting Edge Document Destruction will strategically place security containers throughout your workplace to protect your company, your employees and your clients.
Service is performed either off-site or on-site and scheduled visits by our bonded service representatives will be based on your specific needs. Find out more >>
Cutting Edge offers Hard Drive Destruction and Electronic Recycling services for end of life computers. Find out more >>
PRODUCT DESTRUCTION
Cutting Edge Document Destruction can professionally destroy any defective or surplus product. Coupons, artwork, printing errors, security uniforms, employee identification badges, and lithographs are just a few examples of what we destroy for our clients. Please call for more information about our shredding company.
Contact us for a FREE, NO OBLIGATION information security analysis.
All services generate a Certificate of Destruction.
All shredded documents are 100 % recycled and never sold for any other purpose.
There is no need for removing paper from binders, sorting by color, removing clips or rubber bands.
Cutting Edge Offers the Best Paper Shredding Services in Chicago!