About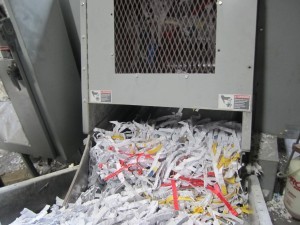 Cutting Edge Document Destruction strives to be the most ethical, secure document destruction company offered in the marketplace. Our primary focus is exceeding the expectations and needs of our customer.
We are founded on the principles of absolute security, integrity and reliability. All employees are committed to the core values, which are:
Unparalleled customer service.
Personal attention to each and every client's job.
Whatever the customer wants. However the customer wants it. Whenever the customer needs it!
Supplying all equipment and labor necessary to complete the job.
Surveying the job prior to scheduling to ensure a complete and satisfactory experience in dealing with Cutting Edge Document Destruction Company.
Pride matters!
Pride in performance: Taking the extra step to do more than what is expected. Making sure the job is satisfactory before leaving the site. Leaving the site clean and tidy.
Pride in personal appearance: Maintain neat and clean uniforms and personal grooming. Maintaining clean equipment including the containers brought to or left at a client's dwelling.
Pride in the service: We take pride in our employees. Hiring and training our personnel in the area of customer relations makes the difference. Not accepting anything short of complete satisfaction in our client's eyes. Leaving the client with a comfort level high enough to recommend us to others needing our service.
Security in all aspects of our company.
Security of the facility, truck, employees are paramount to our success. Your documents will be protected the entire time they are in our possession. All documents are transported in locked vehicles to our facility.
The facility itself is completely enclosed with outside and inside dock doors. An alarm system including video cameras, direct connection to local authorities and motion detectors are in place for the protection of your confidential materials.
Access is very closely monitored. No one, including clients, has access to the warehouse without the escort of an employee of Cutting Edge Document Destruction Company.
All materials are 100% shred, baled and stored inside until there is a trailer load to go to the mill to be converted into new usable products.
The ownership of Cutting Edge Document Destruction Company has a combined 80 years' experience in the document storage and destruction industry. We are committed to the same personalized service that has made us successful in the past and built a solid reputation with our valued clients.
References are available and we encourage you to call them. We hope to make you and your company another member of our family of satisfied customers.
Larry Samples
Owner and President