Security containers
To ensure proper containment and destruction of your documents and materials, Cutting Edge Document Destruction offers a variety of security containers built to suit your document collection and shredding needs. Our containers allow for easy collection and disposal of your documents. If you are not sure which containers suit your business, we can recommend a variety of configurations based on the quantity and frequency of your document destruction needs. Our security containers are the best in the industry and can meet any of your document collection and disposal needs.
Security Consoles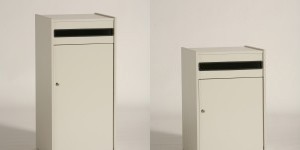 If you are looking for the most secure document collection console for your document destruction needs this is it. Our security consoles are designed with rugged reinforcement to give you the efficiency, flexibility, and durability you need in an office environment.
Our 40" and 24" Security consoles provide:
A tamper-resistant, keyed alike lockable door
A convenient, front-loading drop slot that leaves the entire top surface available for use
Large piano hinges deliver superior durability and strength to the console door preventing tampering or damage and ensures door is out of the way when emptying the container
Nylon console bags are double stitched for reinforcement and feature a heavy duty corded drawstring for quick closure and release
Low-profile casters can be added for easy movement of the security console.
Security Collection Carts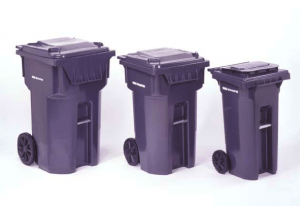 Our Security Collections carts are the best solution for high-volume document destruction needs. Available in three different sizes, our Security Collection Carts are designed to handle large amounts of documents while taking up as little space as possible.
Containers available in 96 gallon, 64 gallon, and 32 gallon sizes
Internal locking system for extra security
HDPE plastic and rugged design resists cracking, corrosion, and bending
Molded-in handle allows for easy portability and maneuverability
Molded paper internal document slot with deflector to prevent tampering
No bag required
Personal Document Containers
Our personal document containers are a perfect to solution to deskside document disposal. They are designed to be part of your workstation for document disposal at arm's reach.
Can hold up to 30lbs of documents
Clear and visible area for a custom ID badge
Molded paper slot with deflector prevents "lazy tosses" and prevents documents from being removed
Body is designed to guide paper into a stack for maximum volume.
No bag required
Sturdy lid with deflector makes tampering impossible
Fully removable lid makes it easy to dump documents into another container for efficient collection